Industry Grade Aniline Oil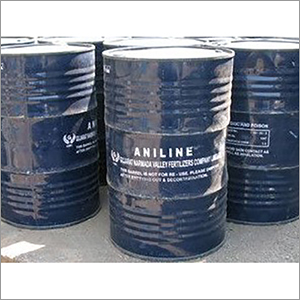 Industry Grade Aniline Oil
Price And Quantity
, Kilograms/Kilograms

116 INR
Product Description
Industry Grade Aniline Oil
Being a client-oriented enterprise in this chemical industry, we are instrumental in bringing forth the highest grade Industry Grade Aniline Oil to our esteemed clients. This kind of oil is suitable to be utilized in Photographic Chemicals, Rubber Chemicals, Pharmaceuticals, Dyes and Dye Intermediates, Pesticides, Insecticides, Fungicides, Herbicides, etc. Procured from trusted dealers in the industry, the Industry Grade Aniline Oil is free from impurities, highly effect, long in shelf life, and can be bought in desired quantity with first-rate drum packaging at compromising prices.

Industrial expertise has enables us to emerge as a reputed organization engaged in offering aniline oil. It is prepared commercially by the catalytic hydrogenation of nitrobenze. We source this oil from the reputed and authentic vendors of the market.
Features :- has the odor of rotten fish, colorless to yellow liquid.
It decomposes at 184.13 degree C aniline oil is used to produce a variety of end products, such as polyurethane foam, aramid fibre and pharmaceuticals. It is also used in MDI foams for the automotive and construction industries.
FAQs
Q1: What is Aniline Oil?
A1: Aniline oil is a colorless, oily liquid with a pungent odor and a bitter taste. It is a derivative of aniline and is used as a solvent and lubricant in a variety of industrial applications.
Q2: What are the benefits of Aniline Oil?
A2: Aniline oil is a highly versatile product, which has excellent lubricating and cleaning properties. It is also a great solvent for oils, greases, waxes, and resins. It can also be used as a fuel additive and as a stabilizing agent in paints, varnishes, and synthetic rubbers.
Q3: What are the safety precautions for using Aniline Oil?
A3: Aniline oil is highly flammable and toxic if inhaled. It should be handled with extreme caution and only used in well-ventilated areas. Protective gloves, eye protection, and clothing should also be worn when handling this product.
Contact Us
Off No. 211, Second Floor, Golden Square Nr. Maruti Show Room, Opp CNG Pump, Valia Road, GIDC,, Ankleshwar, Gujarat, 393002, India
Phone :+918045477471